The Mountain (Nimba) people that visited the Liberia Reunion at Finnhamn in the Stockholm Archipelago, August 28-29, 1999: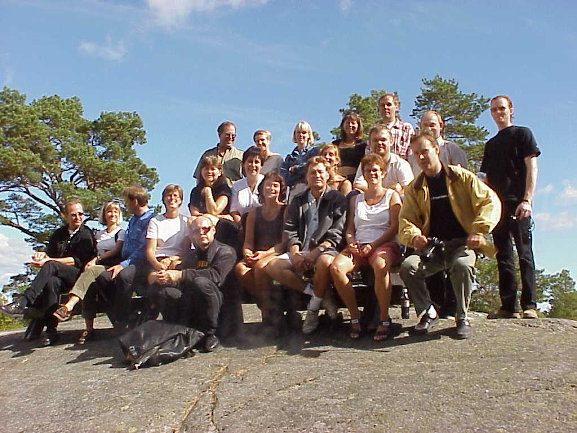 Top row: 1. Lars Kring 2. Anita Lundin (Eghorn) 3. Charlotte (Lotten) Jacobsen 4. Carola Broberg 5. Björn "Nalle" Edsholm 6. Jan Löfgren 7. PJ (Norwegian) Lavoll
Middle row: 1. Lena Broberg 2. Marie Nyman (Edsholm) 3. Ann Lindholm (Wikström) 4. Ulf Eriksson
Bottom row: 1. Pierre (Bodo) Ripke 2. Ulla Olin 3. Günther Dums (Gustavsson) 4. Gunilla Andersson 5. Jörgen Lund 6. Catrin Hellström (Löfgren) 7. Lennart Broberg 8 .Mette Böndergård (Jacobsen) 9. Leif Kring
Help us with names. We may have got some of them wrong. Here is a link to additional pictures.