History of ELNR
In connection with the general LAMCO strike in 1966, which caused a great deal of upheaval when reported in Swedish TV, it became clear that it was necessary to be able to reach LAMCO employees with information at such times.
The question was put to CSS (Communication and Signaling Section) Radio Workshop whether a transmitter could be established to transmit music from a tape recorder most of the time and provide live broadcasts when needed.A few thousand dollars were made available for buying a transmitter.

Gunnar Mathisen and Åke Bergfuhr were made responsible for the project and decided to design and build the station themselves. This way the money provided could provide both the transmitter and other equipment.
The Liberian authorities assigned the station a frequency of 953 kHz in Yekepa and 746 kHz in Buchanan. The station in Yekepa was given the call signal ELBS but this was soon changed to ELNR. EL = code for Liberia, and NR = Nimba Radio.
Radio ELNR 10th Anniversary was celebrated and a brochure produced. Click here to see it.
ELNR was broadcasting as late as 1985, apparently. When did it stop?
Below follows some pictures from the station.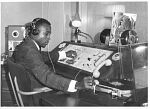 T.. Mac Johnson, Radio Announcer, more known as "The Hootchie Cootchie Man". 1967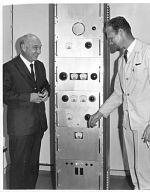 To the left is the general manager of VOA, Liberia and to the right is Kurt Eriksson. They are standing on each side of the actual medium wave transmitter, which was built in CSS (CSS=Communication and Signaling Section) and the main constructor was Åke Bergfuhr. 1967.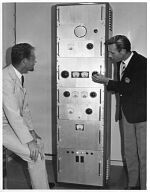 Kurt Eriksson (left), the transmitter and Gunnar Mathisen who also played a major role in the construction of the station. 1967.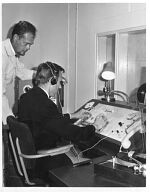 Kurt Eriksson and Gunnar Mathisen at the controls of the station. 1967.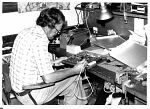 Kurt Eriksson in 1977 shown at his workbench in Radio Workshop, CSS repairing some electronic gadget. The picture were taken to be part of the 10-year jubilee pamphlet for ELNR.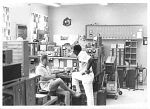 Part of the Radio Workshop, CSS, Nimba. At the table is the Norwegian Radio Technician Willy Hansen. What is the name of the Liberian Radio Technician?. He had spent some time in Sweden and had a Swedish wife.
Station description in World Radio and TV Handbook: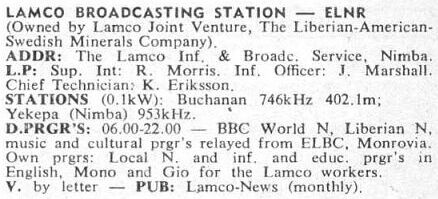 Pictures and text kindly provided by Kurt Eriksson